The Belgian government has been heavily criticised for opposing new EU targets for energy efficiency just days after 75,000 people joined the country's biggest-ever climate march in Brussels.
A new EU directive requiring member states to increase energy efficiency by 32.5%, was approved by governments in Brussels yesterday. Only Belgium and Slovakia voted against the new law.
The Belgian government's vote came in for particular criticism coming just days after a major climate rally had taken place in Brussels.
One of the groups that helped to organise the Claim The Climate march on Sunday, invited participants to email Belgian Prime Minister Charles Michel directly with their concerns.
Zondag: 75.000 burgers op straat 🇧🇪
Dinsdag: België stemt TEGEN hogere Europese doelstelling voor energiebesparing 😲

➡️ Ben jij ook verontwaardigd? Laten we nu MASSAAL mailen naar charles.michel@premier.fed.be met één duidelijke vraag: Waar is uw klimaatambitie? pic.twitter.com/Qx1mG6oXu3

— Climate Express (@Climate_Express) 5 december 2018
The EU's Energy Efficiency Directive, which was agreed back in June but only formally adopted this week, is a crucial new law that will mean governments need to cut wasted energy and find ways to do more with less energy in the future.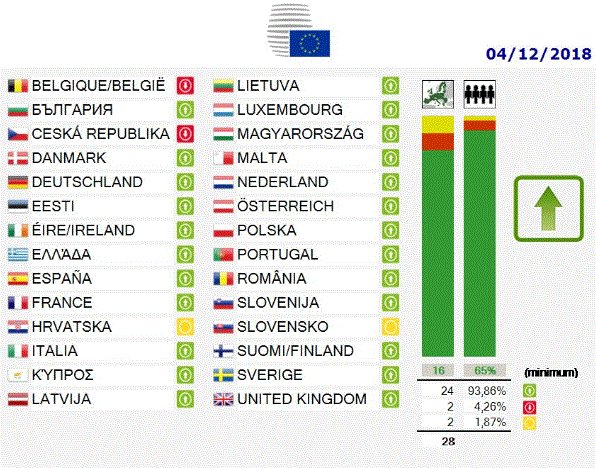 Stopping valuable energy from being wasted is widely considered as the cheapest and most effective route to cut climate-harming emissions and meet commitments made in the Paris Agreement on Climate Change.
Last week the European Commission announced its goal of making the EU climate neutral by 2050.
A big day for the climate, a big day for Europe. On my way to the weekly @EU_Commission meeting to defend our #EU2050 climate plan for an ambitious #ClimateNeutralEU. Let's be the first major economy to go climate neutral! 🌍🇪🇺💪🏻 #NetZero2050 pic.twitter.com/3sjOC8AJ9K

— Miguel Arias Cañete (@MAC_europa) 28 november 2018
Climate and environmental groups welcomed the proposal but said that more action is still required and that planned measures need to be accelerated to avert catastrophic climate breakdown.
Critics also said that the new EU long-term climate strategy failed to harness the potential of action up to 2030, leaving cost-effective emission reduction potential untapped.
The EU is nevertheless the first major economy to announce such ambitious plans and improved energy efficiency as well as a major boost in renewables will be essential to delivering on the target of net-zero emissions by 2050.
New EU targets for renewable were also signed-off this week. 32% of EU energy must come from renewable sources by 2030.
The Belgian vote was particular embarrassing as it came at the start of the two-week COP24 UN climate talks, where the final 'rule book' for implementing the Paris Agreement will need to be signed-off.
Climate march in Brussels! #claimtheclimate pic.twitter.com/46jDWVZprd

— Marie-Amélie Brun (@Mamelie_Brun) 2 december 2018
Benjamin Clarysse, energy policy officer at Bond Beter Leefmilieu told VRT news he wasn't surprised by the government's position and said he believed the government has bent to pressure from industry lobbyists:
"Two days after 70,000 people called for a strong climate policy, this is a strange signal from our country."
However VRT News also reported that Belgian minister for energy Marie-Christine Marghem appeared to blame the country's northern region of Flanders, saying that the regions "find it difficult to meet EU targets" and that they shouldn't blame the federal government for missing them.